The pound hit its highest level in three years as traders bet the UK's economic recovery will gain ground with the rollout of coronavirus vaccines.

The British pound climbed above a previous high in February, extending its gains this year to 4.2%. Three-quarters of the UK population will be covered with a two-dose vaccine within a month depending on the current rate of inoculations, according to data collected by Bloomberg and Johns Hopkins University.
"The pound is favored as immunization advances bring the UK closer to economic normalization than other countries," said Toshiya Yamauchi, managing director of foreign exchange margin trading at Ueda Harlow Ltd. in Tokyo. "The British pound could climb towards $ 1.45."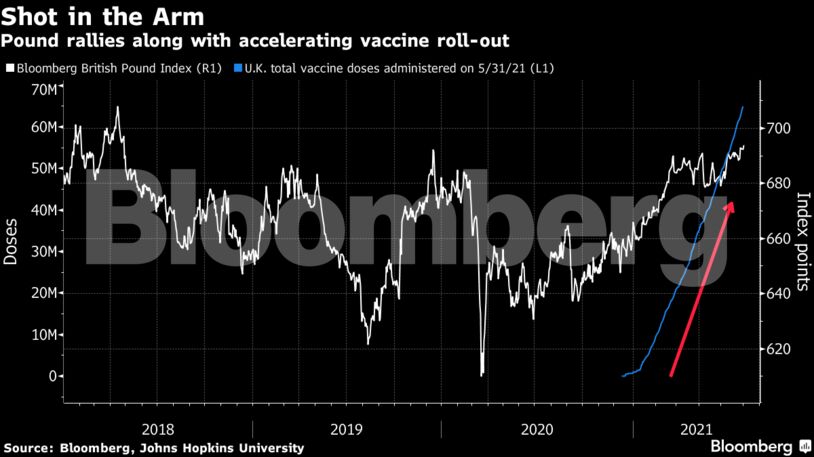 The pound rose 0.2% to $ 1.4240 after hitting $ 1.4248, the highest level since April 2018. The currency rebounded 2.8% in May, a second consecutive monthly gain.
The rise of the pound reflects the UK's relative success in containing the pandemic, with authorities planning to fully reopen the economy on June 21. is not a compelling reason to delay easing the lockdown.
Read more: Economic optimism in UK peaks since 2016 as lockdown eases
Improving growth prospects are also fueling speculation that the Bank of England will join peers in Canada and New Zealand in signaling that it may start raising interest rates next year. Overnight indexed swaps indicate a 46% chance that the central bank will hike its benchmark rate by August 2022, according to data compiled by Bloomberg.
"The UK's economic recovery and associated rising expectations regarding the end of asset purchases by the Bank of England and hiking end up generating bullish bets on the pound, "said Alvin T. Tan, strategist at RBC Capital Markets in Hong Kong.
---
More about this article: Read More
Source: www.dailymaverick.co.za
This notice was published: 2021-06-01 03:24:33